Fall Guys New Season Is Here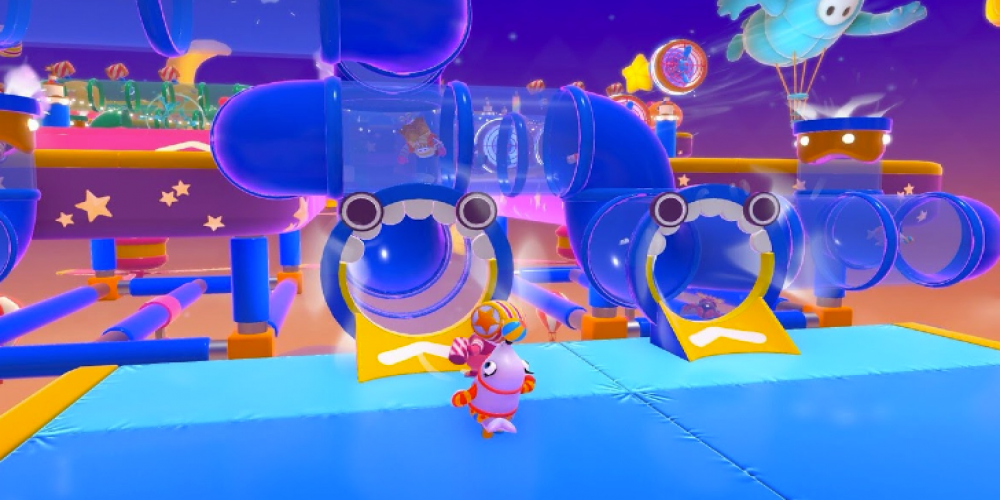 Fall Guys Season 6 has already debuted. The brand-new arena promises some fiendish fun with an element of almost a gladiatorial survival.
Fall Guys: The Ultimate Knockout has a new update for you. Dubbed Pipe Dream, it's a nefarious system of transportation pipes.
And its main purpose is to deliver your jelly-like avatar to a platform lousy with contraptions and challenges.
Pipe Dream focuses on unpredictability. After you take a ride down the convoluted tubes, you never know where you will end up eventually. And oh boy: what if your avatar gets dizzy after such a ride?
Once you're ejected from the tube, there will be a series of elaborate obstacles. One of them is a cannon that showers you and your rivals with water balloons.
This devilish turret can easily knock you out with a surprise headshot, sabotaging all your progress. But who said that you can't cheat?
Well, if knowing how physics works can be classified as cheating! Each time you fly out of the tube, you can use the kinetic impulse to your advantage and cover a bit more distance than the others — it can be critical in beating the race whatsoever.
According to the authors, this new mayhem-powered update will let players show their skills first and foremost. Both in strategizing and micro-controlling. So, if you feel rather competitive this season — head to the Pipe Dream.
At the same time, the fun chaos element hasn't gone anywhere. And you can adapt your unique combat/trolling style to the new arena, riddled with new devious contraptions.
Additionally, you can earn 20k of Kudos and 20 Crowns. In turn, there are promising investment opportunities for your wardrobe: Sackboy costume, cosmetics inspired by Fortnite, the Crying Minotaur, and more.
Fall Guys Season 6 is already available for download. Do you enjoy the new tubular system? Let us know in the comments!